Gypsies are a very ancient and mysterious nation. Settling on the planet, this nation brought with it many different original traditions and rituals.
It is believed that Roma have innate abilities that allow them to carry out reliable predictions of fate.
Very popular are divination cards. At all times, this attribute was considered a special magic item in Gypsies and was never used for playing.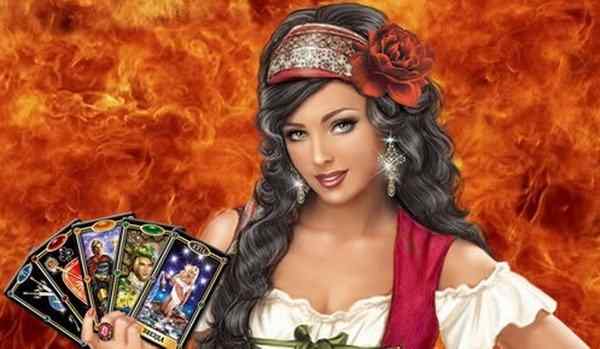 Old Gypsy Rite
One of the famous modern fortune tellers is considered the Gypsy Aza. Her predictions are sought and tested. Guessing gypsy Aza can be used for a variety of predictions.
Its peculiarity is that it not only describes the likely future events, but also gives advice on how to turn the situation in their favor.
Especially popular is the divination of the gypsy Aza to kings. With it, you can get accurate love predictions. After this ceremony, women and girls get the opportunity to understand their own feelings and harmonize relations with their loved one.



In addition, it is very important that such a fortune telling can emphasize that if a love relationship has no future, then it is better to stop hopeless relationships in a timely manner and start life from scratch.
The process of divination for 4 kings
From the deck with 36 cards you need to take all the kings. On each card you should think about the name of the man and the general question to which you want to get an answer. Allowed one card is not tied to a specific person.
After all, fate is unpredictable, and it may very well be that love will arise where you do not expect it. And, as you know, mysterious strangers are found even in the modern world.
Kings laid out in random order in front of him on the table. At the same time between them there should be a small distance.
After that the deck is carefully shuffled.
And the top cards are laid out under each king in rows in this order:
The first is two cards;
The second is one card;
The third is two cards;
Fourth — one card.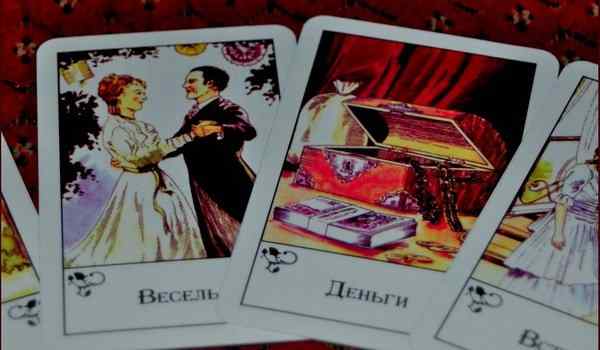 After that, cards of the same rank are removed from the resulting alignment.


Decrypt only those cards that remain.
Of course, when interpreting, one should take into account the meanings of the cards, but at the same time, the main tool should be the intuition of the person conducting the divination.
Values ​​of cards are deciphered not only by their dignity, but also by their suits:
Heart Suit:
Six foreshadows a romantic date;
Seven predicts familiarity with a man and flirt with him;
Eight reports that someone is interested in you;
Nine foreshadows good news or a love affair;
A dozen symbolizes the family hearth and various personal affairs;
Valet foreshadows pleasant romantic cares;
A lady symbolizes a girlfriend or just a married lady;
The king symbolizes a fair-haired man who will provide you with effective assistance;
Ace foreshadows a pleasant meeting.
Club suit:
Six foreshadows a long journey;
Seven predicts a surprise or cash reward;
The Eight informs you that you have new issues and concerns;
Nine foreshadows the successful acquisition or receipt of a valuable gift;
Ten predicts a great profit;
Jack points out that a friend's help will come very timely;
The lady symbolizes an elderly woman;
The king symbolizes a serious and responsible blond man;
Ace foreshadows the onset of a white life strip filled with meaningful victories.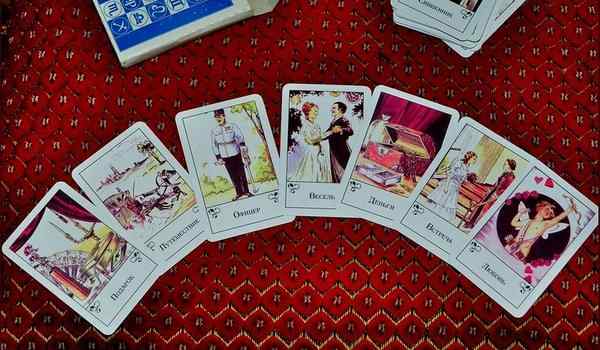 The suit of diamonds:
Six foreshadows a short journey;
Seven emphasizes that in life a rare chance will fall out and they must be taken advantage of;
Eight portends a successful business deal;
Nine indicates that affairs in the love sphere will be very successful;
Ten predicts a pleasant journey;
Valet foreshadows good news regarding the family;
The lady symbolizes a relative or close friend;
The king symbolizes a reliable friend or friend;
Ace foreshadows the end of bad luck.
Peak suit:
Six foreshadows a journey that is not fun and will be absolutely useless;
Seven points to possible troubles and conflicts;
Eight foreshadows bad mood and well-being;
Nine symbolizes a sad period in life;
Ten predicts the beginning of a strip of bad luck, which will affect all life areas;
Valet foreshadows meaningless affairs;
The lady symbolizes the devil or gossip;
The king symbolizes the man who is in the service;
The ace symbolizes a government house, which may be, for example, a hospital or a court.
Aza's gypsy fortune telling for 4 kings, despite its simplicity, allows us to link all the events in the love sphere. It provides reliable information, and, therefore, provides opportunities to change the situation in their favor.