A few tips on how Feng Shui plants should be placed in the house. Plants are living objects that nourish and emit qi and serve as a source of beneficial energy. They symbolize life and development and create an atmosphere of renewal.
You need to ensure that the plants are not sick and get enough moisture. If it is flowering plants, their color should correspond to the element, the influence of which is required to be enhanced.
Plants are used in places where there is a threat of stagnation of qi energy, or in places that have not yet been used. Plants serve as an excellent tool for reducing the influence of sharp corners and neutralizing smashing arrows, especially well closing the edges of bookcases or sharp corners of office furniture with them. Plants with sharp leaves are dominated by yang energy, and they accelerate the movement of qi.
For plants with rounded leaves, yin properties are more characteristic. Since the element of plants is a tree, they are most useful in the southern part of the room, where they reinforce the influence of fire.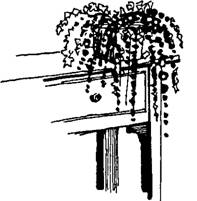 Plants for feng shui.


Since plants are associated with a tree, they should not be placed in the southwest, northeast and center, since these sectors belong to the soil.
They are best suited to the living room and dining room, but in the kitchen and bedroom plants should be used with great care.
Cacti and other prickly plants should not be located close to people, and in any case they have no place in the south-west, as this sector is responsible for family relationships. However, in some books it is claimed that thorny plants scare away thieves on window sills.
Artificial plants do less good, but they can also stimulate qi energy, if they are kept clean and tidy. It is necessary to regularly clean them from dust.
Dried plants are not so useful, they should be out of reach, and ideally their use should be limited to the cold season.