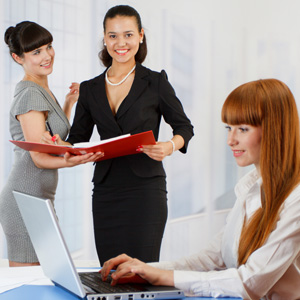 We all once come to a new team, where some people seem to be supporting you, and the second part is against you. It is very difficult to gain credibility in the new team, so in this article we decided to sanctify the question: how to earn credibility in the team of a new employee.
How to gain authority in the team?
Quite often, highly qualified specialists come to the city to get a job, and, despite the fact that they work well and efficiently, they face some problems in the team.
How to behave in such a situation? If you want to earn credibility in the team, you need to first join it.
Even as an expert of the highest class, you will not be able to gain credibility if you do not behave as you need. First of all, do not be arrogant, remember in another monastery you need to follow someone else's decrees and live, as is customary there.
Even if it seems to you that the team is doing something wrong. Therefore, you can not set your own rules.
Try to follow all the established rules in the team, if everyone teaches, you will also join them, since the rest of the people do not want to be accepted.



Very often, in a collective, a general dislike for a newcomer is a normal phenomenon, primarily because of the fact that people compete with each other. As a rule, when there is a general hostility in the team, they constantly make fun of the newcomer, invent nicknames and play them, especially when a new person came to the place that the employees of this company dreamed of.
In such situations only the strongest survive. If now this attitude has affected you, then we advise you to calm down first of all.
Breathe smoothly, imagine how you all celebrate with fun the whole event … do you like it? Then act!
Start small — smile. Be friendly, friendly.
Remember, the mood always returns as a boomerang, your sincere smile people will rejoice and smile back, and this is a good start.
Secondly, you can organize some small party in honor of your arrival. If you cannot invite your employees to a cafe, then prepare some food, salads, fruits and bring everything to dinner, during a conversation you can find a common language with the others.



Try to keep up the conversation with ease, do not talk a lot, on the contrary, listen. Ask your employees to talk about the rules or customs in the team, say that you do not want to be a black sheep.
Speak compliments, only sincere, make people want to communicate with you.
This will be a good start to your teamwork. Then, during the week, maintain warm, friendly relations with everyone.
Try to help people with what you can, with advice, business, finances. As soon as you gain favor with yourself, you will immediately earn credibility in the team, but for this you need to try very hard.
At all, when it was the first working day. Remember how exciting it is.
And before each of us there is the same question — how to get comfortable?
How to gain authority and get used to the new team? Coach Tips
Here is what psychologists recommend for quick adaptation in a new and unfamiliar team:
On the first working day, the boss will introduce you to the staff. This is where it all begins.


Perhaps colleagues will acquaint you with your official duties, or they may silently monitor you.
Well, then you have to sort out all the intricacies of working in a new place yourself. And try not to distract colleagues for minor reasons.
Perhaps you are a good specialist, but this should not interfere with your relations with your colleagues. And it is natural that at first you, as a new employee, will be closely watched.
In turn, try to be punctual and not waste your work time.
Another good thing about the new team is your benevolence and openness. Talk affably, smile as often as you can, offer your help on occasion.
Try to adhere to the form of address to colleagues, which is adopted in this team. In this case, do not forget to take into account the relations that have developed with one or another employee.
In no case do not contact anyone by last name, do not allow familiarity.
Do not be indifferent to your colleagues, empathize with failures and enjoy successes.



Workplace. A good, responsible employee will always keep his workplace clean.
For women, it is very important to understand that you can not do makeup at the workplace. Do not rummage through the papers on someone else's desktop.
Do not take personal calls to occupy the work phone.
Do not criticize orders in the new organization. And even more so under no circumstances compare them with the orders in your previous job.
Be hardworking, do not be lazy. Consider the fact that the team is looking to you, and the impression you make may affect your career growth.
Do not be afraid of mistakes, because only he who does nothing is not mistaken. If it happened, and you made a mistake in your work, do not try to dodge and lie. After all, all the secret in the final result will be revealed.
A responsible step on your part is that you yourself report the error and try to solve the problem.
Confidentiality. Do not share the problems that have arisen in the company or team with customers.



This will cause great harm not only to your reputation, but also to the reputation of the company.
By following these not complicated recommendations, you will quickly get comfortable in the new team, and you will never again have the question of how to get comfortable in the new team.