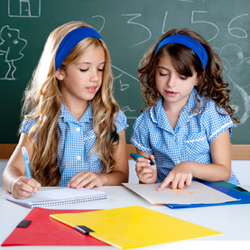 Parents are trying to arrange their children in «good schools», hoping for a higher level of education. But if your child is studying in the environment of «stars», his performance may fall.
The abundance of too smart classmates can really harm the education of the child, warn researchers from the London School of Economics.
They reviewed the performance of almost 2.3 million English schoolchildren and tracked how it varies across schools.
According to the observations of experts, «middling» — both boys and girls — show the best results in their studies in a less competitive environment, because they have a psychological advantage that they do not feel among the «stars» of the school.
In general, scientists noted that the opportunity to become the best in something — in school or sports — motivates children well. They start to make more effort and spend more time preparing.
But when all the "vacancies" of the best are already occupied by others, children's motivation decreases and they retreat. It is interesting that the trend is more pronounced in boys with medium and high social status, but was equally applicable to both sexes among students from low-income groups of the population.