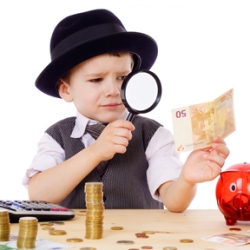 Who has more chances to grow up as a well-to-do person — from someone who, as a child, received money from parents or from a child who learned how to earn it?
If you read the Diliser "Trilogy of Desire" about the talented financier Frank Kaupervud, then you probably already have an answer to this question. However, scientists decided to establish the truth by scrupulous counting.
A team of researchers from the University of Sheffield surveyed 3,200 children between the ages of 11 and 15 about their income.
By law, children in the UK can work part-time from the age of 13, so some of the respondents had their own earnings, while others received pocket money from their parents.
Scientists divided the children into 2 groups according to sources of income and decided to study their spending habits.
Predictably, the money earned was valued by adolescents much more than the money given out by parents: the first were carefully saved, the second was spent "at zero".
The report also notes that the work experience had a positive long-term effect — those who worked from an early age often grew into well-paid workers in middle age.