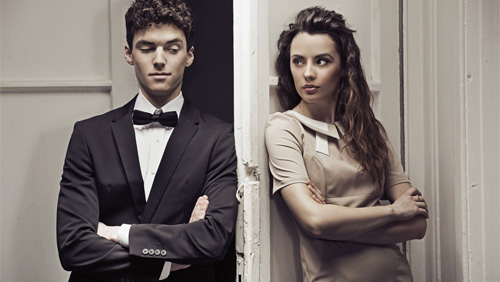 In modern society, the so-called civil marriage or cohabitation has become common. Surrounding calmly refer to the fact that the couple does not officially register their relationship.
Being in such a union, women often experience psychological stress. Before you decide to live with a man in cohabitation, you must carefully consider everything.
When the relationship between a man and a woman develops for a long time, they should have a definite conclusion. A friend expects to hear a marriage proposal soon, she will be called in marriage. But this is not always the case.
The partner simply offers to live together without marriage registration. He cites many excuses for such a relationship. Usually, men say the following:
The main thing is not a stamp in the passport, but love
Need to check if partners are suitable for each other.
The wedding is sure to be, but later.
A woman may doubt that a man really loves her. She hurt that he does not want a formal marriage.
But if a friend does not agree to cohabitation, she may lose a loved one.



The Russian Family Code recognizes only officially registered marriage. He establishes responsibility before the law and gives legal guarantees to both parties. After registration, relations in a pair are no longer determined by personal agreements.
Entering into an official marriage, a man and a woman declare to others about themselves as a single family. Together with the duties of the spouses receive and rights.
When people live together without registration, it is customary to say that they have cohabitation or civil marriage.
Types of cohabitation
Alternative to ordinary marriage.
It can continue for a long time with mutual agreement. From the traditional marriage union often differs only in that it has no legal registration. In a number of Western countries, unregistered cohabitation is recognized and has social guarantees.
They agree to it, expecting an early marriage. Often, partners find it necessary to check how fit they are to each other.
A distinctive feature of a trial marriage is its short duration.


With good compatibility, the couple enters into a marriage, otherwise they break off the relationship. Sometimes a person creates trial alliances one by one, not finding the right satellite.
Only after he meets the one who suits him, registers the relationship officially.
Often a woman misunderstand what cohabitation means. She believes that if he agrees to live with a man, then in the future he will definitely marry her.
However, the partner has his own ideas about living together. It is convenient for him to live in this way — a sex life is adjusted, everyday problems are removed. At the same time, the man is free from obligations, in case of disagreement, he can simply leave.
These are typical views of partners in unregistered cohabitation. However, there are other examples of relationships.
Cohabitation as preparation for marriage
There is a widespread opinion in society — if a couple lives together before marriage, this guarantees good relations afterwards, after official registration. The man and the woman are mastered by the characters, they check the joint psychological compatibility.



Relationships are built on mutual trust. If necessary, partners are easier to part with — because they do not have stamps in their passports.
However, numerous studies suggest that the cohabitation and the success of further marriage are not related to each other. Even if the partners believe that they have passed the compatibility test, this does not guarantee a happy family life.
Psychologists believe that preparing for future relationships takes place in the parental family. Cohabitation before marriage does not change the installation already laid from childhood. The family union is influenced by such factors as having both parents, relationships with sisters and brothers.
From what values ​​were originally incorporated into a person, his whole future life depends.
What is necessary for a good marriage
In order to live in a marriage happily ever after, it is necessary to have certain character traits. They are formed only in a happy family of parents. We can distinguish the following areas:
Caring for loved ones
Tolerance, condescension
Kindness
Sympathy
Cooperation skills
Empathy
Ability to communicate
Suppression of selfishness
Spiritual union
Accepting people along with their shortcomings.
Generalized portrait of a man in cohabitation
The idea of ​​checking relationships usually means that the partners do not trust each other. They do not want to be responsible and incur obligations, they are not ready for possible consequences.
Behind the reluctance of legal registration can be the desire to avoid unforeseen situations. Sometimes a person has a negative experience of previous relationships.
They are treason, deception, various problems.
Psychological traumas often lead to self-doubt, there can even be problems in intimate life. They make people doubt the value of the official marriage and bad examples in surrounding families.
His parents and relatives have a particularly strong influence on a person.
Peculiarities of people in cohabitation
Have liberal views
Can withstand the pressures of society, do not reckon with the traditional rules
Poorly attended school
Developed the ability to communicate with people
Have a successful parental family
There are both male and female traits in character.
There are economic or social reasons that make cohabitation more convenient and beneficial than a formal marriage.
Female choice
What to do if a man does not call to marry, and offers unregistered cohabitation? A woman must make a choice — to accept it or not. Some do not represent a family without a formal wedding ceremony.
But they are afraid to refuse their loved one, for fear of losing him. In any case, a woman should pre-voice their preferences. If they are silent, the partner may not know the true desires of his half.
In this case, it is possible for them to make decisions that she does not like.
Life together is often far from the expected cloudless views. Even if a man promises to have a wedding in the future, one should not hope too much for it.
It is unpleasant for a woman to feel deceived. However, it is better to look at everything that happens realistically and not to look for a hidden meaning where it does not exist. The partner may not pay much attention to his promises.
If a man offers not marriage, but cohabitation, he sees in a woman not his wife, but a girlfriend. Sometimes after the offer of a hand and heart, a couple comes and lives, but long-awaited registration does not take place.


This suggests that the partner just found a good way to start cohabitation.
He was not going to formalize the relationship.
Women who have agreed to civil marriage, over time, get used to live like this, even have children. Modern society does not blame such a way of life, if it is not very different from ordinary ideas. After some time, some couples play weddings.
In the soul of a woman feel the uncertainty of such a relationship, they are offended by the reluctance of men to register a marriage.
Identify benefits
A woman needs to decide as early as possible what is most important for her. If a traditional marriage has value for it, it is necessary to say about this man.
He should know that she does not like the role of concubine. The name may be different — partner, common-law wife, girlfriend, but this does not change the essence.
The more confident a woman feels, the harder she is in her statements.
Some ladies want to preserve relationships in any way and are inferior to men. But others do not hide their principles, and partners are forced to make a decision.



Often they make an offer and register a marriage. A person who has a solid attitude will command respect from others.
If, however, the couple decide to live together, it is necessary to discuss everything in advance. It is recommended to speak frankly about what is bothering you. You should find out what personal space each partner will have, how they will work and relax.
It is likely that in the future a man or woman will want to leave. You need to understand what to do in this situation.
Important points
Official registration alone does not make marriage perfect. It can be quarrels and conflicts.
Opponents of legal relations often emphasize the couple's independence from different lifestyles. People can live well both in civil and in traditional marriage.
But do not forget that in the latter case, they officially appear as a family before the society. For all family members, certain rights and obligations are automatically established.
In a registered marriage, they are supported by law.
Despite all the freedoms, most of the population creates families.


Every woman has a choice — to live in a civil marriage or to seek official registration.