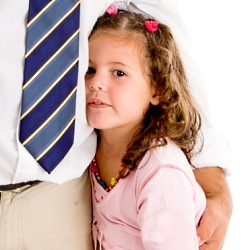 Girls who grew up without a father in childhood are more likely to have promiscuous sex at a later age, scientists estimate.
Researchers from Texas Christian University surveyed 64 students for their intimate life. The girls were asked to indicate in which families they grew up, whether they had sex, whether they used condoms, etc.
The girls were also asked to write an essay about some important event in which their biological father was absent in order to assess the degree of importance of fatherly support for them.
It is not surprising that girls deprived of their fathers 'support in childhood began to look for her from other members of the opposite sex.
Girls who grew up in families without fathers, often lost their virginity at an early age and had signs of risky sexual behavior than their peers who were brought up in full families.
The authors of the study believe that, in fact, people underestimate the importance of the influence of fathers on children — it seems to many that one woman may well bring up a child.



However, according to scientists, the basis of many problems (including health) is only one reason — childhood without a father.