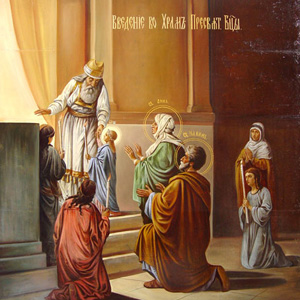 Popular names and traditions of the day
Church 4 celebrates the introduction to the temple of the Blessed Virgin. It is known that the parents of Mary, Saint Anna and Saint Joachim, could not conceive a child for a long time and lived to an old age. Once an angel appeared to them and announced the coming of Mary to the world.
After that, Anna and Joachim decided that they would send a daughter to serve God for sending such happiness to them. When the girl was 3 years old, her parents brought her to the temple of Jerusalem.
It was there that Maria was brought up with other girls, engaged in needlework, studied Holy Scripture, and spent her free time in prayers.
Tradition says that angels appeared to Mary who spoke to her and even served food. Mary lived in the temple until the age of 15, after which she was chosen to be the husband of the pious Joseph, who remained a widower. It is known that the festival of Introduction itself was established in the period of early Christianity, but it became widespread only in the 9th century.
The Russian people shortened the name of the feast "Introduction of the Blessed Virgin Mary to the temple" and began to call this day Introduction.


Moreover, they associated him not only with the personality of the Mother of God, but also with the image of winter, which also entered into its rights on the Introduction.
4 trading began — the so-called Vvedensky fairs. As a rule, during this period there was an active sale of sleds. Trial trips were made on this winter form of transport.
Usually, newlyweds who were planted in special painted sledges took part in such festivities. Managed sled man belted sash.
The bride also had to dress up in her very best clothes. They believed that the winter itself, which breathes on the glass, passes through the streets of 4 on the sleigh, because of which patterns are formed there.
Also this period was known for thaws and frosts, as a result of which the roads were "grappled", then "limp". But this did not prevent to do the first sleigh trips.
Moreover, it was time to bid. The first was a toboggan, which was previously held in Moscow at the Lubyanka.
It was there that the bast and toboggan ranks were located, expensive Galician sleighs with gilding were sold.
People signs on 4
The introduction is said to be the gateway to winter.


In any case, usually around this time snow fell on the ground, which did not melt until spring.
There are signs associated with this day.
If the snow has gone before the introduction, it will melt, and after the introduction it will, on the contrary, linger until spring
If the snow after the introduction did not melt — expect a good harvest of bread
Frosty day foreshadows a cold and snowy winter
If a person is born 4, then as a talisman he is recommended to wear a diamond
The frost and the sun were a good sign that day.
Cloudy and warm weather — there will be a poor harvest
The real winter has come — you can hope for a good harvest
Clear weather predicts crop failure and vice versa.
Frost 4 — next summer will be very hot, and the coming holidays will be cold
The bells can be heard from far away — there will be frost, and if the bells are deaf, then it is predicted by snowfall.
If in the oven millet porridge blush, then snow will fall
The horse is stubborn — it marks the fact that soon the snow will fall