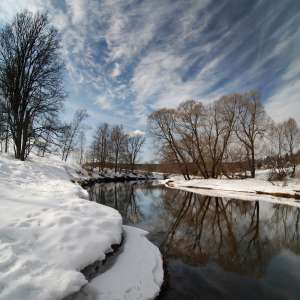 Popular names and traditions of the day
The day of the martyr Vlasiya 24, because of the many signs and customs, attributable to him, as soon as the people did not call: Hair, Whiter, Cow Holiday, Maslenik, Frostberry, not without pleasure noting: "Prokhor passed, Vlas came — soon we have «.
But, apparently, I really didn't want to give up the positions that had been won back from the fall with difficulty when the snowy mistress became decrepit without a fight. So, winter tried to cling to the earth with ice matinees, and gaining strength, she made an effort to get to Blasia, who were dreaming about the spring heat of people, with belated frosts.
But, to tell the truth, they were the last and could not scare anyone by force or luteness: "Blasius horn has been knocking down since winter, equipping it with the road, and she knows the way behind Prokhor following".
Of course, the people swore, mocking the order of the boring winter, and the frosts of the Vlasyevsky jokes did not tolerate, burning the careless passers-by to tears. But even they could not spoil the holiday, which at that time was celebrated in all the parishes for 3 days in a row.
After all, the martyr Blasius was venerated by the people as the first successor of the Slavic god Volos (Veles) — patron and protector of livestock, therefore Blasius was often called the Bane of God, and the celebrations on his day were considered a cow holiday.



24 no one worked, prayers were served in the churches, and the prudent village people, upholding the matins and praying to the Christian saint, hurried home to pay tribute to the Slavic traditions just in case, not forgetting to repeat: "Saint Blasius, give happiness to smooth heifers, on fat bulls, to go from the yard, play, and from the fields go, jump ".
It was believed that the last three truly frosty days began on Vlasiv Day. Although according to another version, it was three days before Blasius and three days after 24.
Ever since pagan times, peasants have been very respectful of this day, since it was 24 ancestors who worshiped Veles, the god who is known as the patron of livestock. They prayed about the health of domestic animals, about the offspring, sacrificed Veles.
And, despite the fact that the Orthodox canons gradually entered the life of a rural resident, still Vlasiy was considered the patron saint of livestock, and 24 were called nothing less than "cow holiday". Tried on this day especially carefully to care for domestic animals, conducted various ceremonies and even predicted various phenomena, paying attention to the behavior of cattle.



There was a custom to slaughter animals on Blasia. They believed that the roast on the table will surely bring happiness to the house.
However, in no case was it possible to cut the cow precisely because the attitude to it in Russia was special — it was the bread-winner for the whole family.