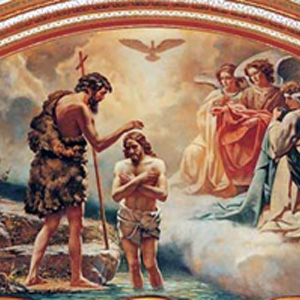 Popular names and traditions of the day
Usually, friends and relatives were invited to the Baptism in the house, they organized magnificent feasts. Everywhere 19 water was sanctified — people went to church services or spent time in prayers at springs and rivers.
It was believed that the water, consecrated on this day, has magical powers. Therefore, they watered the sick with baptismal water, consecrated houses, hives, land plots and outbuildings with it.
19 is one of the most important church holidays in the Orthodox Church. On this day, Christians recall one of the most significant events described in the Bible: Jesus Christ was baptized in the waters of the Jordan River. It was during this ceremony that the heavens opened, and the Holy Spirit, in the form of a dove, descended upon Jesus, and a voice came from heaven: «This is My beloved Son, in whom is My favor.»
This was the sign that Jesus is indeed the savior that everyone was waiting for. The consecration of water is the main tradition adhered to in Russia 19. It is believed that such water can be used for a very long time — it is not susceptible to deterioration.



Usually, the Baptism was hit by severe frosts, but it was believed that after this cold weather would decline, and the sun would turn its course towards spring.