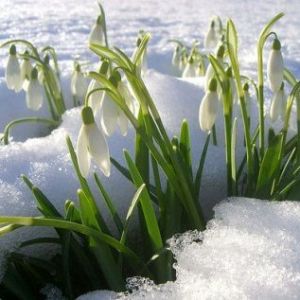 Popular names and traditions of the day
It was said that 23 thunderstorms begin in March. At the same time, it was noted that winter has finally receded, and the nature around it is beginning to awaken. The day is getting longer than night.
In the morning there are still frosts, but they become soft and short.
In the people 23 called Vasilisa, spring water a pointer. The Orthodox Church honors the memory of St. Basilisa. It is known that she died a martyr's death when she was only 9 years old.
During the reign of Emperor Diocletian mass persecution of the followers of the Christian faith was organized. Vasilisa was also caught and forced to renounce Christ.
However, the girl was adamant and subjected to beatings, terrible torture.
In Russia, St. Basilisa was considered the patroness of meltwater that spills in the spring. They prayed to her that the big water did not flood the village and the house.
It was said that since Vasilisa gives water the ability to remember and see the hidden, and therefore it penetrates into the houses only to those who spent a year in sin.