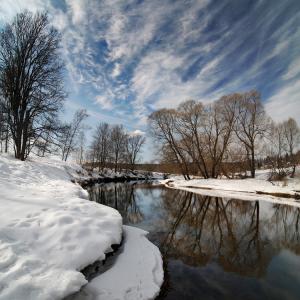 Popular names and traditions of the day
Believe it or not, but 5 only a trifling and irresponsible person would have decided to look at the stars falling from the sky, as he who saw them must have been unlucky, or even he or someone of his close relatives would die.
It was believed that along with the frost, the first spring thaw would still appear. Therefore, the snow melted, and the kids tried to go sledding.
They believed that spring gradually comes into its own, and snow melted on the fields — it was possible to start sowing work soon.
In the Orthodox Church 5, the day of Bishop Lev Katansky is celebrated, but the Slavs renamed the feast day «pelt» or Lev Katalschik. And all because there was a tradition to go on a sleigh ride from the mountain, so that one last time to frolic in the season of "over-wintering," as March was then called.
Winter in Russia was accompanied on a grand scale. So, for example, 5 baked Shrovetide pancakes, arranged masquerades, led round dances, went to visit, asked forgiveness from those who were at odds, savored meat and sweet dishes, because Lent soon came, during which there was prohibited.



It was still forbidden5 to look at the stars in the evening, because otherwise you would end up in misfortune. They said that in the beginning the sky takes away happiness.
Prophesied the terrible phenomena of those who violate the ban. They believed that on the day of Bishop Lev Katansky, spirits appeared in the image of falling stars, and at night they go to bed with married women when their spouses are absent.