The map shows a woman with red wings. She is dressed in white clothes and stands barefoot in the river.
On the chest of a woman there is a decoration in the form of a triangle enclosed in a square. It is a symbol of the spirit that is hidden in matter. In the hands of a woman angel holds a jug, and from one to another pours water.
It symbolizes the cycle of energy in the world. The map indicates that it is time to think about feelings and relationships.
The inner meaning of the card is to update the spiritual and physical strength, as well as to get rid of unnecessary emotions.
Tarot moderation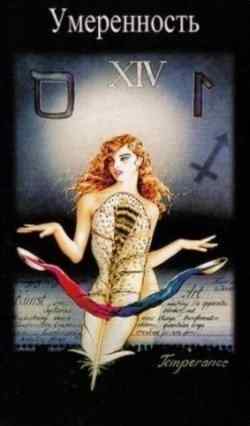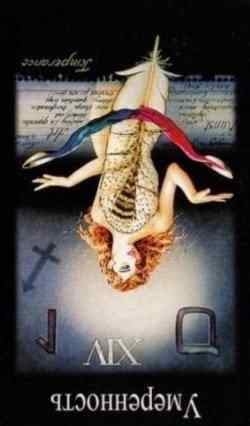 Map value Moderation in a straight position
Map Moderation in a direct position symbolizes harmony and life balance. It indicates the modesty and self-restraint of a person. This is a very good sign, foreshadowing a period of success.
All the cases started earlier will stabilize and all obstacles on the way to the goal will disappear. This card foreshadows harmony in all spheres of human activity.
And even if it falls in the alignment next to negative cards, it greatly reduces their negative predictions.



A person must realize that the period of difficulties and failures has been left behind and we must move forward boldly. But at the same time, it is important to control emotions and feelings. To realize all your ideas and plans, you need to be patient, find compromises, lead a moderate and thrifty lifestyle.
This card advises to accept the world around us as it is. A person is awaiting in the near future an acquaintance with real life in all its manifestations. Maybe you will have to pass exams or you will have the opportunity to get acquainted with the culture of another people.
Sometimes the card indicates that you will have to undergo a medical examination or temporary separation from your loved one.
In all spheres of human activity, well-being will be maintained, in particular:
In the field of health, no problems should be expected, but for women pregnancy can be a joyful event during this period;
In personal life, stability is also maintained and no changes should be expected. The partners experience strong attraction to each other and feel the kinship of souls. Especially favorable in the scenario is considered to be a combination with the Lovers card. It indicates the willingness of partners to compromise to solve any problems;
Work issues will be resolved successfully, although this will not be a precursor to an improvement in material well-being.
Map Moderation personifies patient and diligent people who often achieve success in life due to their own working ability. For a person, this card may mean that he is surrounded by respectable and reliable people, from whom you can always expect support.
Card value Moderation upside down
In the inverted position, the map Confidence symbolizes the wrong way of life or the consequences of a person's bad actions. It may also indicate that a person does not know how to adapt to life and this creates many problems for him.
Sometimes this card in the inverted position predicts conflicts and partings.
It is very important, after such a card has fallen into the hands, to find time and assess the situation that has developed in reality. It is necessary to understand that in order for life to improve, a certain time must pass.
All decisions during this life period must be taken deliberately and carefully, and you also need to force yourself to listen to the advice of wise people.



This map can influence various life areas as follows:
In the area of ​​health, problems associated with unexpected injuries, exacerbations of chronic diseases, urgent operations or sudden attacks can be expected;
In personal relationships, a map often predicts dishonest behavior of a partner, which can cause a breakup;
In the business field, the map symbolizes chaos. The situation at work can be heated to such an extent that it can provoke dismissal.
The card personifies people who go about their own desires and they are not interested in the opinions of others. She points out that there are many unbalanced people surrounded by a person who are difficult to find a common language with.