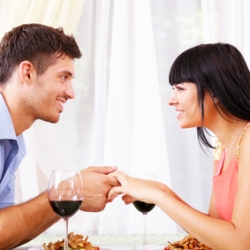 Worried before the first date? Remember: it is important to stay at a height of at least the first 12 minutes!
The AXA Research Foundation surveyed 2,000 people to figure out how quickly and why people have sympathies or dislikes towards strangers.
It turned out that the average time during which we make a decision on how to treat a person is 12 minutes.
In this case, the most important thing that affects our opinion is a smile (64 percent), eye contact (58 percent), fresh breath (45 percent), voice (25 percent) and clean clothes (23 percent).
Unpleasant body odors (59 percent), bad breath (53 percent), curses (38 percent), dirty clothes (36 percent) and unsmiling (33 percent) are among the most repulsive factors.
It is not surprising that before the first date, a quarter of people (25 percent) make drastic changes in their appearance, such as a new haircut or clothes, and every sixteenth will even go on a diet the day before!
Every twentieth man (5 percent) will grow stubble especially for you, and almost all women will make a manicure.